Picture time!
Finally got my butt in gear and downloaded then uploaded the stitching photos.
First is my "Why Hoard Gold?" from Dragon Dreams. She's stitched on a light greyish blue evenweave. I really love how this one turned out, and Tim also really likes it. She has such a sweet face.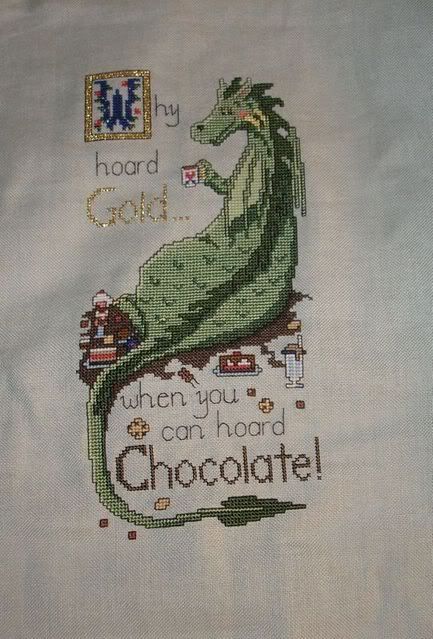 This is the Mirabilia 2001 Cherub, a gift for my coworker at her shower this Thursday. I switched the colors so that the baby blanket and hat is green and the background is blue. She wanted the sex of the baby to be a surprise so I wanted it to be gender neutral. I also changed the beads on the baby's hat from blue to green.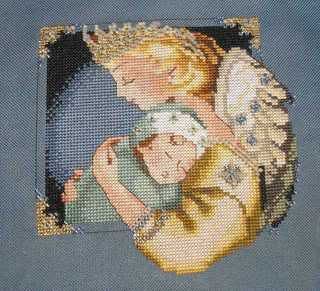 And finally, this has nothing to do with stitching. Tim and I have many nice Christmas ornaments -- those light-up Hallmark ornaments, Lenox ornaments, pewter, etc. So, which one is his favorite? This one: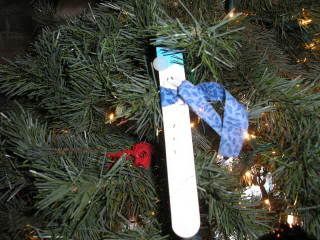 I received this a few years ago in an ornament exchange, and it is adorable. It's tongue depressor, painted white and with little eyes and a blue hat also painted. Then a button was added to the hat and a little fabric scarf was tied around the "neck." I love this ornament, but it cracks me up that it's Tim's favorite. I have to put it front and center and at his eye level, or else he'll move it there, lol.