Finally - some pics!
Finally got some pictures of my recent stitching progress.
1. Finished Mermaid of the Pearls last night! I really was only missing a few green beads and I got them in earlier this week, then added the treasures. I am so thrilled with how she turned out! I normally wouldn't think to use that fabric for anything as I'm not a big fan of that color green, but it works very well with the colors in this design.
2. Almost done with Easter Fairy. She hasn't taken long to stitch, although now that I see her in a picture I think I need to try to even up her legs a little. I always have a hard time stitching legs, lol. I'm waiting for my Kreinik to come in, but I should have it today or tomorrow, then can do the beading. I think she's a very sweet little fairy.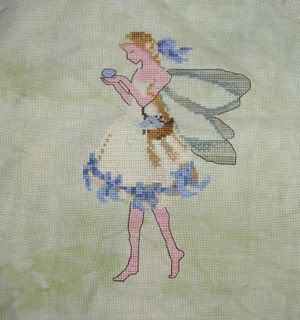 3. Here's my progress on Liberty Sampler. It's very different from what I usually stitch and I have to take a break from it every so often because it's very repetitive. I really like it though. Originally it was going to be for me, but I think I'll give it to my dad. I enjoy stitching the part where all my threads are loose, as it's a fun little satin stitch design. The hard part was the ship. All that blue and off-white was driving me crazy. :)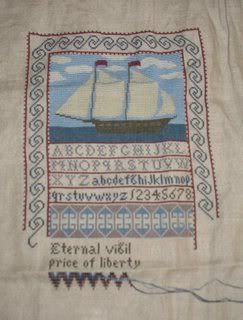 I think I may start my Silkweaver FOTM club again this summer. I used to belong to it and later to the Dyeing4U club (miss them!). I'd end up getting fabric I wouldn't usually buy, but would find it gave a different look to a design, a look that I wouldnt' have thought of if I'd just bought my first impulse. Hmmmm, will have to think about that.
Labels: stitching