It's daytime, where's the sun?
This was supposed to be posted yesterday but I didn't finish it until this morning. That's the way the ball bounces :)
Probably why so many of us are kind of off lately -- the sun hasn't been showing itself much these days. Goes with living in the Northeast in the wintertime, but it can get a little gloomy. I actually did try to post something yesterday but it didn't fit correctly. It was a quiz to find out what type of weird cat I am, and I'm a Couch Potato. The picture is hysterical but the whole thing messes up my sidebar, so I'm just going to post the picture: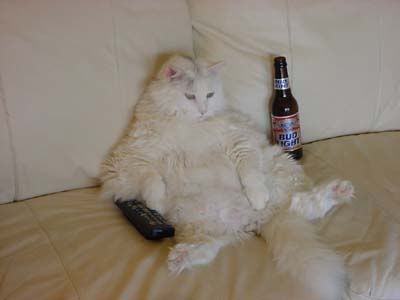 Quote of the Day
: from
Monty Python and the Holy Grail

King Arthur: I am your king.
Woman: Well I didn't vote for you.
King Arthur: You don't vote for kings.
Woman: Well how'd you become king then?
King Arthur: The Lady of the Lake, her arm clad in the purest shimmering samite held aloft Excalibur from the bosom of the water, signifying by divine providence that I, Arthur, was to carry Excalibur. THAT is why I am your king.
Dennis: Listen, strange women lyin' in ponds distributin' swords is no basis for a system of government. Supreme executive power derives from a mandate from the masses, not from some farcical aquatic ceremony.
______________________________________________
I did get in a little stitching this weekend, but not as much as I had wanted. I think that goes for everybody most the time :) I finished the 5-hour rotation on Sleeping Beauty, a 5-hour rotation on Rose Arbour and 2 hours on Christmas Flourishes. I didn't get any more done yesterday as I was a knucklehead at work and forgot to eat until about 4:30, and then I only had a few carrots so I felt pretty crappy last night. I need to not do that.
So here's my progress on Sleeping Beauty and Rose Arbour.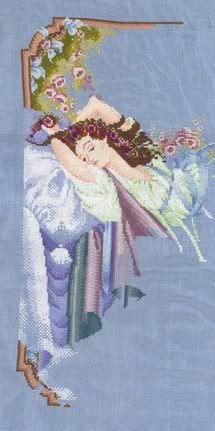 I stitched a little here and there on this one.
I stitched only on the arbour this time and made some decent progress on the right side. That way I'm not stuck stitching leaves, stems and flowers at the end.