Finally finished it!
I think it turned out pretty good for my first try at this kind of embroidery. I had an idea in my head of what I wanted to do, but pretty much made it up as I went along. I love, love, love those JCS Ornament Issues with their lovely stitch illustrations in the back! I intend on buying one of those embroidery bible type books, but those magazines come in very handy in the interim. There are some chain stitches I've seen but couldn't figure out how to do, even with instructions, so I didn't include those or buttonhole wheels like I wanted to. I'll have to figure out how to stitch those and use them next time. However, I think I've mastered the bullion knot and French knot. My French knots should now look a lot better after practicing on this piece. I also added generic beads I bought at Michael's.
My two main goals were to contrast texture with simple stitching and go from dark colors down to light colors. I may end up stitching some more on the "M" outline, as I'm not sure if it stands out enough right now. I'll have to let it sit for a while and come back to it.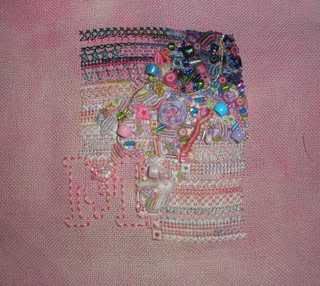 Labels: stitching