Finished Liberty Sampler!
Yay! I had a stitchathon on July 4. I spent the entire day stitching on this (thought it was appropriate) while watching "The Revolution" on The History Channel. What a lovely day! I almost finished it on the 4th but my eyes were crossing so I stitched the rest of it yesterday. I promised myself that if I finished it on Friday that I'd allow myself to start the Mirabilia Christmas Elf Fairy for the Holiday in July Mirabilia SAL this weekend. I figure it's a pretty good trade, considering the fairy is about 1/3 (or less) the size of the sampler I just finished.
The bargello band almost had my eyes permanently crossed, but I love the look of it. I'm thinking about giving this to my parents, as I think my dad would particularly like it.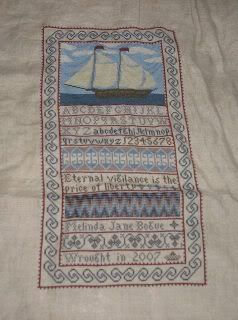 Labels: stitching