Bonhead move of the day
Nothing major, just a sign that I'm tired. I ripped my used page off my new pad of paper, then promptly threw the good paper into the trash and kept the used-up piece on my desk.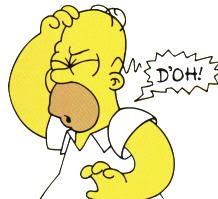 Luckily, there were only papers in my garbage so it wasn't a big deal to get it back out of the trashcan.
Edited to add: Normally I'd fix the title, but it's too funny that I'm talking about my bonehead moment and I didn't spell "bonehead" correctly. I guess I had more than one of those moments yesterday, and feel I should leave it as it is. :)
Labels: random