Update
Been a while since I've been here. Our bedroom phone line stopped working last weekend so we were without the Internet for a few days - not necessarily a bad thing.
I've been busy stitching. I did update my sidebar but didn't post everything. I started both Rose Celebration and Garden Verses. I also started Misty Morning Vineyard from Chatelaine. I took a picture earlier in the week but made a lot of progress so need to scan again tomorrow and post it. Below are Rose Celebration and Garden Verses, respectively. I really love the hair in Garden Verses.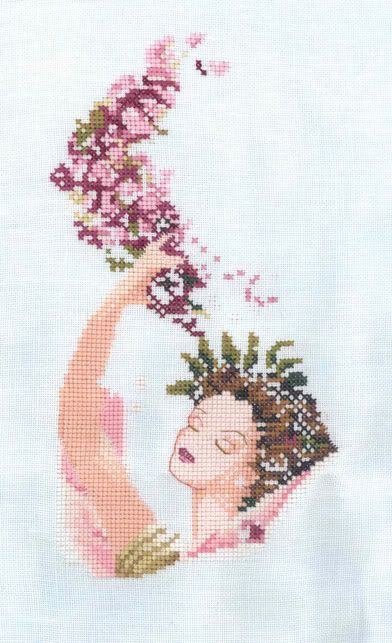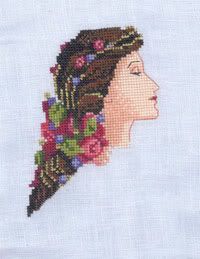 I've been doing pretty good on the health front:
1. Down 5 pounds from New Years
2. Drinking one can of soda a week, usually on the weekends (or a soda at the movies)
3. I didn't realize until 3PM today that I hadn't had any tea, my only source of caffeine for the most part, aside from the chocolate I eat at times. I had no symptoms whatsoever of caffeine withdrawal -- major stuff coming from someone who was a Diet Coke/Coke junkie a month ago.
I'm still not exercising as much as I'd like. I need to get new sneakers but first need to be sure I have enough to get my car fixed. I think it only needs a radiator hose, but I want to be sure before I spend that other money. I've been using "The Firm" DVDs and like them, but my flat feet hurt too much doing them and I really need to buy the good shoes. I should be able to get them on Monday, after getting my car fixed. I'm taking that day off to relax after the banquet this Saturday. In the meantime, I'm using my stretchy bands and weights to help keep things steady.