Finally have my scan of Rose Arbour!
It's been such a long time since I've posted any stitching pictures. That was mainly because I kept saying to myself I didn't want to post until she was finished. Well, she's finished, although a bit wrinkled: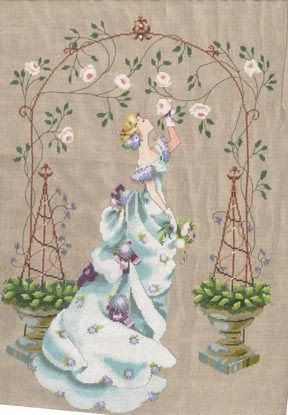 I don't know how many hours I put in as I haven't counted them up from my notes yet. I know I put in 55 hours in the last month -- yes, I've been stitching nothing but her for a while now but when I get so close to the end I just want to keep going. In reality, I wasn't as close to the end as I thought when I made that decision LOL! That bottom part of the dress takes long then it looks, and those little flowers slowed me down. Well worth it, though. Tim is all excited and says he'll pay for me to frame it so it can go on the wall next to Rose of Sharon.
Woohoo!