Stitching update
(Doh! I don't know why some of these photos are so big. I edited them in Photobucket as usual, but they certainly aren't as small as Photobucket says they are. Have to work on that.)
Well, it's been a while since I made a real post. I'll start off with my good stitching news -- I finished Lady of the Flag! I wanted to have her done by 9/11 and had her stitched and was in the middle of the beading when I realized I didn't have enough gold beads. Duh. So, I ordered them and received them on Friday, finishing her yesterday.
I'm thinking of framing her in a special way. I need to add my initials and "September, 2006" to the bottom, and may also add "Remember 9/11/01" or something. Then, I'd like to stitch sayings about freedom and have them inserted in the mat around her. I'd probably but them on navy blue and use white floss, as I want her to be the focal point. There are several quotes out there about how loving this country also means questioning the government, what true patriotism is, etc. I need to work out the details, but I think that would be nice. Or, I could print the quotes in a nice font on a laser printer on acid-free paper, but I'm not sure it would give the same effect.
Anyway, she looks a little odd because the bottom is hanging off the couch cushion. She's pretty big and it's hard for me to get a good picture of her.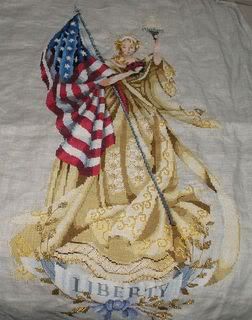 I've also been working on Garden Verses and Mermaid of the Pearls, and both are coming along nicely. I'm very happy with both, but particularly Garden Verses, probably because she has no beading so that I can see the whole picture as I stitch, whereas Mermaid of the Pearls has a lot of beads that I will be filling in after I stitch.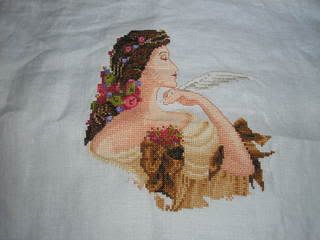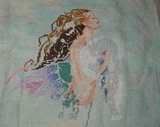 I also started Skeleton Crew last night and am enjoying it. I'm hoping to have it finished by Halloween, but of course it won't be framed by then. It's by Cross-Eyed Cricket and is very cute, but I haven't stitched enough of it yet to justify posting a picture.
Labels: stitching