Stitching update and other blathering
I FINALLY got some stitching scanned in. Since this is Finish It February, my finishing goals are to finish Guardian Angel and Christmas Flourishes. Christmas Flourishes only needs the beading, and I started it last night. Guardian Angel is below and I don't have much left to do on her, but I always think I have less than I really do when I get close to the end. I think I can make my goal, but for a while my stitching goals need to come second to my health and fitness goals. Sooooo, after I get in my exercise and meal plans and and make my meals, THEN I can do whatever I want :)
So, here's my Guardian Angel: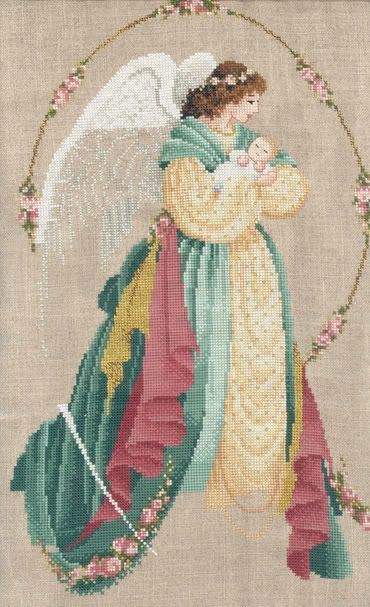 My other stitching news is my first scan of Chatelaine's Misty Morning Vineyard. I'm calling mine Stormy Morning Vineyard, as my fabric is a bit darker and it gives that look of bright colors against a stormy sky. I know it's not nearly as poetic a name, but for me it's accurate. Growing up in Upstate NY my parents owned vineyards and many times when we were out with the harvester, trying to make deadlines at the wineries, it would be overcast or simply raining the way it does in late September through very early November. I also put a scan to the side, although it looks strange at that size. I'm still waiting for a few silks that were backordered, so I haven't been able to finish the cool urn in the corner. Those holes in the urn will have some neat specialty stitches in them when I get the rest of my silks.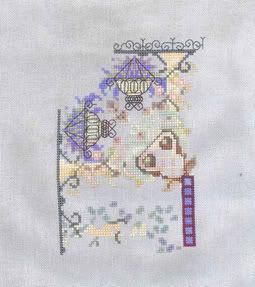 On to other blathering (I warned you).
I'm really feeling great about what I'm doing healthwise. I wore one of my mock turtlenecks today and my coworkers really noticed that I lost weight. I can't believe that just 6 pounds has made a difference. Came home today and did my Firm Cardio Blast DVD, then a short Pilates segment so that I got in an hour today. Right now I'm getting in an hour 3-4 days a week, at least 20 minutes of something on other days, even if it's just 2 10-minute walks. I notice I've been sleeping better, too.
Now, I just need to keep doing it for many months and then maintain it when I get to my goal weight. Yeesh. I'm trying not to think that way, and instead focus on that 10-pound goal -- get down a total of 10 pounds by Valentine's Day. I have a 1.5 weeks left and to meet that goal need to lose 4 more pounds (as of this past Wednesday). I think I can do it, but even if I don't I know I'm going in the right direction.
The most important thing is that I'm not depriving myself, not saying that I'm not allowed to eat anything. I still eat what I want, but I'm paying attention and only eating certain things every other day or week or so. I know, to people who have never dealt with a weight problem that is a "duh" thing, and I've recently heard all about how simple losing weight is. I've noticed a lot of people who have never dealt with it always say how simple it is -- just eat less (or better) and exercise. Yeah, we know that. It's changing the lifestyle that's difficult, especially when you have emotional connections to food and are addicted to it. I rarely hear people tell smokers that all they have to do is just stop smoking and they'll be fine. I'm no smoker, but there's no way in HELL I'd tella smoker how they should stop. I have no clue, and I hear it's very difficult. All you can do is be supportive of their cranky moods when they quit and in other ways, but you can't do it for them.
Eh, enough rambling. I think people who do that do care about the people they are trying to help, but it's like skinny people who say, "Oh, you'd be so pretty if you lost weight." They mean for it to be encouraging, but instead it makes you feel like crap about yourself and you get emotional and eat more. You can't change bad habits until you are ready to make the change, not because somebody else is telling you to.