Cool blinkies and memes!
Thanks to
Princess
for the cool blinkies she posted in her journal for everybody to use. I hijacked a few and finally figured out how to insert them into my sidebar. Very cool!
Since I'm bored I feel like doing another meme:
Five by Five

Quickly, without giving it too much thought, write down five things you can see from where you are sitting.
1. my desk
2. DVD stand in bedroom
3. dresser
4. bedside table lamp
5. Smokey
Now, tell us five things about each of those five things.
1. my desk
a. it's a light-colored wood
b. it's small and actually a student's desk
c. it was built by my grandfather for my sister and I have no idea how I ended up with it
d. I can't replace it now because I have no place to put it and refuse to do away with it for sentimental reasons
e. I will probably end up shipping it to FL so my nephew can use it in a few years
2. DVD stand in bedroom
a. holds about half my DVD collection, the rest are in the livingroom
b. I'm too embarassed to admit how many I have (although most were bought used)
c. many of Tim's favorite DVDs are back here while most of mine are in the livingroom
d. the stand is black and narrow with 5 shelves, but the bottom shelf has some VHS tapes
e. I got the stand for about $10 at a clearance sale
3. dresser
a. under all the junk up there is a blue crocheted dresser scarf from Tim's mom
b. it's a cheap dresser but sentimental as it belonged to my grandmother who died in '89
c. the top drawer has a little design on the front and a different handle
d. the dresser has five drawers
e. I can't tell you the last time I sorted stuff in there
4. beside table lamp
a. a Christmas gift from my still-alive grandmother from a few years ago
b. it's supposed to be a touch-tone but it doesn't work so we screw and unscrew the bulb
c. I didn't have the heart to tell her because the first one she sent was stolen from my apartment building because the mailmen left it out by the mailboxes (grrrrr!)
d. the shade is 5 light blue glass panels with pretty blue flowers on each panel
e. I sometimes like to put a blue lightbulb in it to make the room look cozy
5. Smokey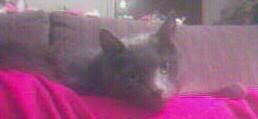 a. Smokey is my Russian Blue kitty who is sitting on top of my clean clothes that I need to put away
b. he loves me and sometimes loves Tim but can be very "sometimey" with others
c. he will be lovey-dovey then turn on you at a moment's notice
d. he likes to curl up with me under the covers early in the morning, especially when it's cold
e. he used to belong to an ex-friend of mine and I'm so glad that she couldn't keep him as she made him completely psycho (even moreso than now)