Back from CATS in Hershey!
Karri and I had a great time and bought lotsa good stuff! She's a little overwhelmed because she's just getting back into stitching and really didn't do a lot of it before. I seem to be a good enabler and have started teaching her the value of collecting. She bought some great Picture This Plus fabric for some charts she bought and also to replace some absolutely awful aida from a Dimensions kit. She also got a cute kit containing linen and silks, so I'm going to teach her how to stitch on linen. I think she'll take to it pretty well.
I never get to meet up with all the people I want and hope that next year I can go Wednesday, stay through Sunday, and stay at the lodge. I like meeting people from the boards and always seem to miss most of them because we are all so busy buying and stitching.
As for what I bought, I discovered some great designs I don't think I've ever seen before. I do not lie when I say I think I could have bought each design she had in her booth if I'd had the money. It's Donna Heilder from Simply Old-Fashioned and she has some great designs! I'm going to post links to the other stuff I bought but will post the actual pictures of Donna's designs because I think people have seen the others but not these.
Anyhow, I finally bought a Chatelaine design! I bought the chart for
Misty Morning Vineyard
. Now comes the hard part -- buying the silks and beads. I plan on buying a little here and there over the next few months so it's not so painful. I think this is one of the more expensive ones to stitch, but it's beautiful and I love vineyard themes.
I also bought
The Crab is In
from Waxing Moon. This came with the little buttons so all I need is the fabric, and I certainly can find something appropriate in the collection I have. I've been interested in this for a while and when I saw it at the market I figured I may as well buy it. I plan on putting in my office at work. :)
I also bought
Dani the Stitching Dragon
from Dragon Dreams. I had this when it was a freebie but don't know what happened to it, and for $9 I get 4 different versions, one which is in metallics. So, I think this was a good deal. I really like her dragons and this one is just too cute.
Finally for my lovely
Simply Old-Fashioned Designs
:
I bought one of these one day and had to go back for the other the second day. It takes a second to see it, but they are Santa faces with long beards:
Santa's Beard in Lace I and II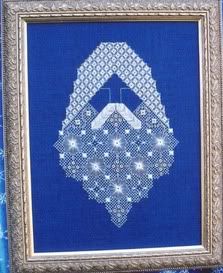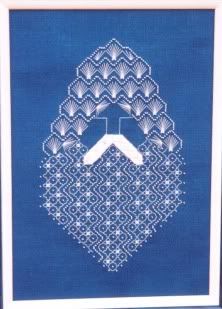 Then I bought these two lacey patterns that also use beads. There were a bunch like this, but these were my favorites that were there. They were all gorgeous. This is
Remington's Rose
and
Polonius Peacock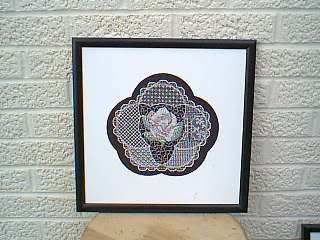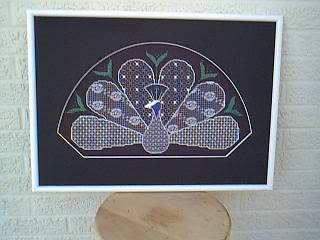 Then there's this guy, who is one one of my favorite wizards of all those I've seen. Some of them are very fancy, but this one is pretty simple and looks great in the overdyed threads. Unfortunately, I can't find a very good picture.
Stars of Merlin
I bought this fishy on a whim and think he's a cutie. He's
#29 in the Ever So Lit
tle series. I plan on stitching him in some lovely Needle Necessities floss I bought that are in dark purples, greens and blues. One skein is dark and the other is a little muted, but they are the same basic colors. I'm going to stitch him twice and mirror the chart so they are facing each other, perhaps on the same fabric -- haven't decided that, yet.
So, I feel it was a pretty successful trip and don't see myself buying much for a while, except for the Chatelaine flosses I need and perhaps some black fabric and overdyeds.