Woohoo! Christmas Flourishes stitching finished!
I still have to sew on the beads, and that will take a decent amount of time. However, the stitching is done! I love all the colors in this one, and of course on the blue fabric. Those who know me well know I love stitching on various shades of blue. I can put her in my sidebar, now that I have a picture of her.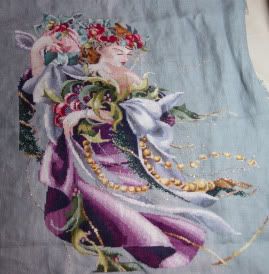 I've also stitched some more on Sweet Dreams Santa from Vermillion, and his picture is below. This is a beautiful design, but takes longer than I'm used to because Nora Corbett spoils me by designing with few fractional stitches and not much backstitching. The Vermillion designs are much different, but also gorgeous. I love that this is a blue Santa -- you don't see those very often -- and he's holding two sleeping bunnies.
Of course, I've already goofed up the border so won't be stitching it until I at least get the outsides of Santa done, then I can make it all fit. As you can see I'm working my way down the left side at the moment. I normally don't work this way, but I think it's better so that I know that border fits and can work on it a little here and there as I fill in the middle. Of course, that way I'm stuck with the face and beard and a lot of whites, grays and skintones, but I think it's the way I should do it. I tend to goof up on charts with a lot of partial stitches, but it always works out.
Here is what he'll look like when done: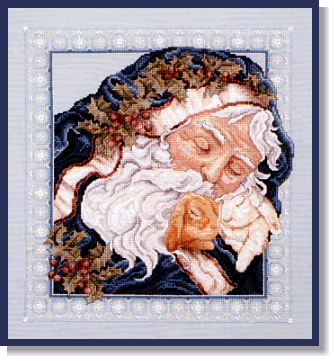 Here is my slow but sure progress: