Finally submitted to the Silkweaver Showcase
Nothing like waiting until the last minute. I had a picture but wanted to get as close to the actual color as I could. I still don't think I got the exact color of the fabric across, but it's better. I just uploaded a larger version of this image: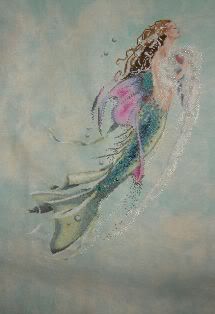 Looking at it again, I can see the little shadow at the bottom from where the couch cushion ends. I probably should have cropped that out, but oh well.
I think I have a chance at maybe winning a prize, but so do most of the other submissions, lol. We'll see what happens. This is the first time I've submitted anything to Silkweaver. It would be so cool to win some of that fabric. It's a tough competition, though.
Labels: Silkweaver Showcase, stitching