Stitching pics and general rambling
Finally, here are some pictures of recent finishes. I finished Christmas Elf Fairy back in August, and this is my current picture of Halloween Fairy. I'm almost done, but can you guess what happened by looking at the picture? Yup, ran out of Dandelion. I thought I had enough, but not quite. So, I contacted Hoffman and hope they will send me a little extra. As long as I can finish it by my Mirabilia BB contest deadline (Dec. 1, I think?) I'm fine. Christmas is stitched on Cherub and Halloween is stitched on Moonglow, both from Picture This Plus.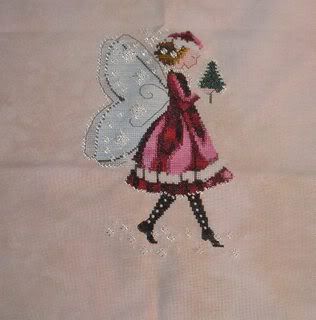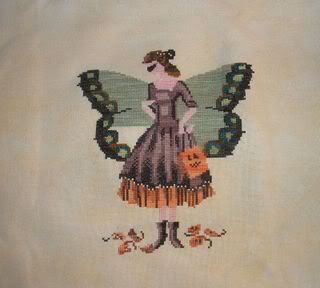 In the meantime, I've finally started my yearly round of Christmas ornaments. I usually have them done by now, but just haven't been in the mood. It's OK, because once I design a few that I like I just copy them using different threads and beads. I can get one done in about an hour or two and only have about 7-10 to make. I have two stitched already, just have to add beads.
I'm also going to stitch something up for my coworker who is having a baby in late December. I already stitched a Dragon Dreams design for her. It's cute, but I think I'll save it for someone else. After stitching it, it just doesn't say "Jeanette" to me. So, I'm going to either stitch the Mirabilia cherub freebie with the baby or the 2000 L&L angel with the baby. They will both stitch up pretty quickly and seem to be a better fit, particularly the Mirabilia. I've also decided I'm going to get her a gift card for DSW Shoes. After babies are born, everything is about the kids and half the time moms get gifts for the baby instead of themselves. I think moms deserve to be a little pampered, too. Plus, she's very fashionable and hasn't been able to wear her heels while pregnant. She said she went to DSW the other day and left without buying anything because she didn't want to buy anything more that was flat. So, I figure this can help her once she is up to wearing heels again. It's funny though -- she still looks better almost 7 months pregnant than I do on most days, lol.