Finally - photos!
I finally got my butt in gear, got new batteries for my camera and took some pictures of my stitching progress over the last month or so.
This past week, my beads came in for Deepest Love and Mermaid of the Pearls. I'm nowhere near the point of adding beads to MoTP, but Deepest Love was waiting on them. Luckily, there's no a huge amount of beadwork on DL, so I was able to get that done this afternoon so she's finished!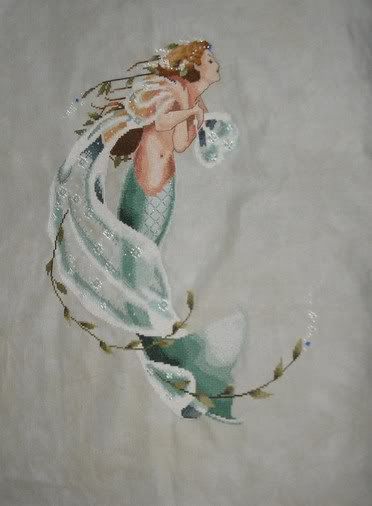 I also worked quite a bit a few weeks ago on Lady of the Flag. You may remember that my goal is to finish her by 9/11 this year. After the progress I made in about a week or two, I'm quite sure I should be able to make my goal. She was my May Maiden I worked on. I really like stitching her, but I can only take so much of that gold color and that is a BIG dress! You can see where I worked my way down skimpily so that I could stitch a tiny part of the blue "LIBERTY" section at the bottom.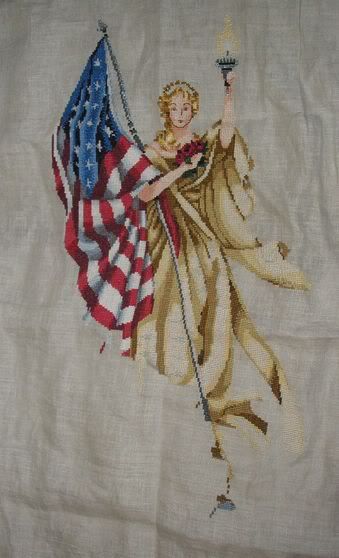 Here's Stars of Merlin that I actually finished about two months ago, but never photographed. He's from Simply Old-Fashioned and is for my friend's son, Sean. I changed the beadwork a little and used a different color for the non-black areas, as Sean saw that particular Needlepoint Necessities floss and thought it was pretty cool :)
The rest are starts I've made since January. If I recall, I started Rose Celebration, Garden Verses and MoTP during Guilt-Free February. I was debating it at the time, but I've been doing pretty well with my finishes, having finished Guardian Angel about a month or so ago. I don't have a picture of MoTP because I haven't done much work on her. The same goes for Fairie Treasures, which I started in April for All About Fairies month. Those monthly themes we have going over at the Mirabilia board are going to be the death of me. Must. Not. Pay. Attention.
Rose Celebration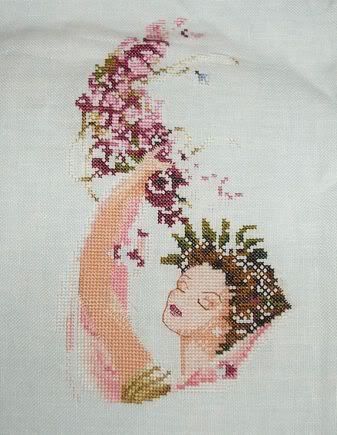 Garden Verses (love her hair!)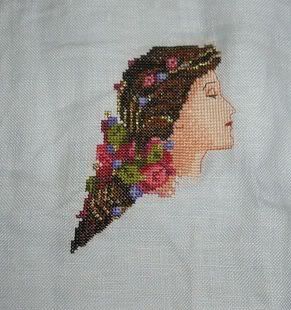 I also have great Smokey pictures, but will add them on a different post. He's still a very handsome kitty, at 12 years old, and is very photogenic.