Cherub and Waiting for Ships
Ok, here's the Mirabilia 1998 Cherub. I stitched him on blue evenweave. When he's stretched properly the harp strings look better than in the picture. Now that I think of it, maybe I need to take those off. This is for the AQP and I can see a baby getting tangled in those and they won't look tight on an afghan either. Will have to see about that.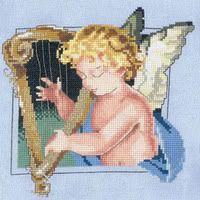 Here's my Waiting for Ships after seventy hours. All I need to do now is the beading. I'm looking forward to at least getting the hair beading done. As she is now she looks like she's been the victim of some tragic farm accident.