Yeah yeah, I know.
I've been so bad about the blogging lately, there's probably nobody out there and I'm talking to myself. Oh well, that's OK -- it's not like there was a huge amount of trafic here. :)
So, I found the cutest cat picture. It's in the
Foster & Smith catalog
and snagged it for my blog. Does this not look like the happiest and most content cat you've ever seen? This kitty makes me smile every time I see the picture.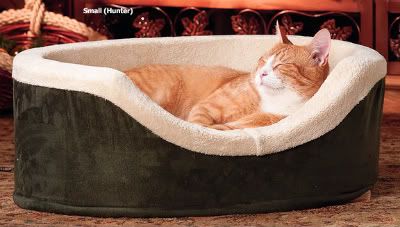 On a totally unrelated note, I've been watching the
Eureka
marathon today and am now going to have to rent the DVDs from Netflix and start watching this show when it starts up again in July. There aren't many current TV shows I actually watch, but I like this one.