Well, something must be working right
I'm currently wearing a pair of khakis that didn't fit me earlier in the week. I don't think I've actually lost any weight, but I think it's because I'm drinking more water and less diet soda. I'm still drinking soda, but not as much and replacing much of it with more water. I'll see what my weight is on Monday.
Also, I've been creating some of my own little designs. I buy wonderful tuck pillows and flat pillow ornaments from Ames at
Amy's Cross Stitch Corner
. The problem is that most designs that are small enough for the ornaments are very simplistic and not what I want to use. Also, they are very Christmas oriented and I have a lot of people I give to who are not Christian.
So, I made two ornaments that were derived from the middle of a TW whitework ornament. These two are a little big for the ornament pillows, but will work for others.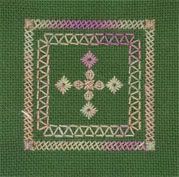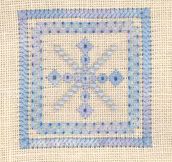 These two are perfect for the ornament pillows and I made them up by myself as I stitched along. I'm pretty happy with the results and started a different one last night. Here I am, close to two big finishes (WFS and Flourishes) and I'm obsessed with making these little ornaments that aren't needed until December. This is the way my brain works, folks :)